1740 List of Jurymen, Perquimans County, North Carolina
"Some jury lists survive from the early colonial period. Although comparatively few in number, lists from many counties appear in Saunders' Colonial Records of North Carolina and Clark's State Records of North Carolina. During the period of these lists, jurors were required to be landowners...Service on a jury establishes several facts for researchers, namely, that a person was of age, that he resided in a given place, that he owned land (depending on time period) and that he was a respectable citizen."
[Quoted from: North Carolina Research: Genealogy and Local History, 2nd edition, pp. 294-295]

Scanned by Harold Colson in April 2000.

Source: Colonial Records of North Carolina, Volume IV, pp. 517-518
---
LEGISLATIVE JOURNALS
Monday the 25th of Febry. 1739 [1740]
The House met according to Adjournment

Resolved that the following list of Jurymen now produced to this House be added to the former List Vizt.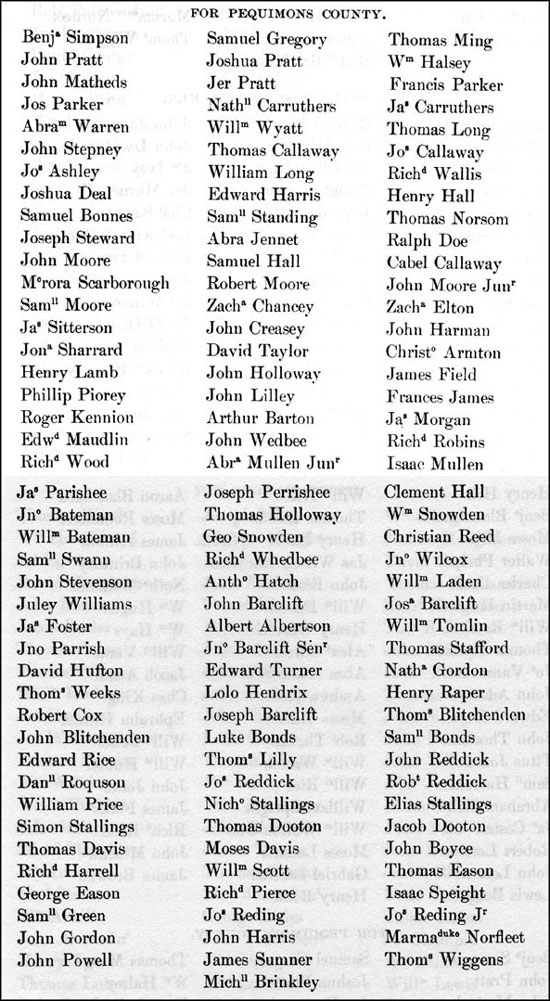 Ordered the following message be sent to the upper House with the aforesaid List.
May It Please Your Honours
This House have resolved that the several Lists of Jurymen herewith sent for the several Countys in this Province be added to the former Lists To wch. wee desire your Honours concurrence.